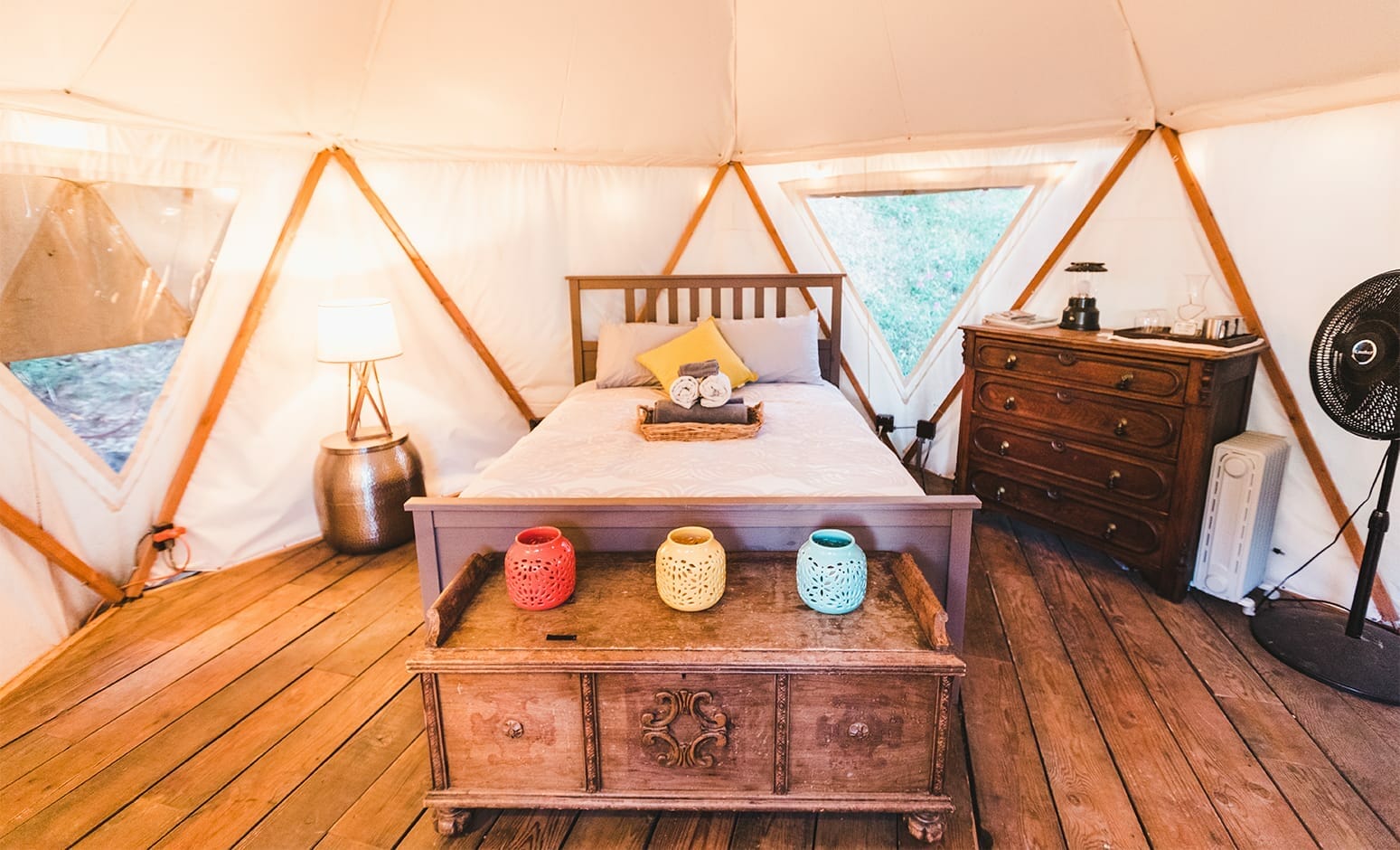 Reverie Retreat Policies
By booking with us, you are agreeing to these rules. If we find that you have disregarded the rules, you may be asked to leave, so please read carefully before booking.
CANCELLATIONS AND CHANGES:
All reservations are subject to a 10% cancellation fee from the time of booking until the cancellation window closes, at which time the reservation becomes non-refundable and non-changeable.
You must cancel your reservation by 3pm 14 days prior to your scheduled arrival to receive a full refund, less a 10% processing fee.
Reservations cancelled between 14 days and 7 days prior to your scheduled arrival are subject to a 50% cancellation fee.
All reservations become non-refundable and non-changeable after the cancellation window closes (by 3pm 7 days prior to arrival).
There will be no adjustments, guarantees, refunds, or rebates for problems or failures beyond our control such as weather, fire, smoke, road conditions, power outages, or any other unavoidable occurrences.
We apply these policies consistently to all reservations in order to treat everyone equally.
We suggest you consider travel insurance if you will need to recoup your reservation fees in the event of a last-minute change after our cancellation windows close. Squaremouth is a travel insurance marketplace where you can easily compare policies that can help protect your trip.
ADULTS-ONLY:
Reverie Retreat is an adults-only facility – the minimum age for all guests is 18 years old.
PETS:
Up to two dogs are welcome for a fee of $20 per night (dogs only – no cats or other animals).
You must let us know at least 24 hours prior to check-in if you are bringing a dog so we can prepare the unit appropriately. If you arrive with your dog(s) without advance notice, you will be charged an extra $100 for replacement linens (in addition to the $20/night cleaning fee).
You must keep your dog(s) on leash around the property at all times.
Dog(s) are not allowed to be left behind if you leave the property.
No pets in the pool area.
Unauthorized animals will result in the termination of your stay without refund.
NOISE:
Quiet hours are between 10pm and 8am. This is a very tranquil setting so no loud music at any time, and no music in the pool area.
No drones.
CHECK-IN/CHECK-OUT:
Check in is 3pm or later; check-out is by 11am, this includes the pool and all communal areas including trails.
Photo identification is required for all guests at the time of check-in; we will take a photo of your ID so we have it in case of evacuation or other emergency and delete it after you check out.
Only registered guests are allowed on the property. Please, no outside visitors.
VEHICLES:
Please drive no more than 5mph once you enter the property.
Past guests have hit and killed rabbits and other critters when speeding on our property. Please drive slowly and beware of the speed bumps on the driveway!
There is one parking spot available per unit. If you need to bring a second vehicle, let us know in advance or we may not have a space available for you.
FIRE/SMOKING:
Absolutely no fire of any kind inside or outside the units.
No smoking (this includes cannabis or any other smokable substance) or vaping inside the units or at the pool; if you need to smoke anything, please let us know and we will show you how and where to do it safely. If there is a discernible odor or visible evidence of smoking in the unit, you will be charged a $150 cleaning fee.
No candles, no wood campfires, no open flames, either inside or outside.
Use of the propane fire pit will be curtailed when there are regional fire restrictions. The fire pit is not suitable for cooking or s'mores, so absolutely no cooking on the fire pit.
DRUGS/WEAPONS:
No drugs and no firearms allowed on the property.
POOL/HOT TUB:
Guests are welcome in the pool area from 8am to sunset; the pool gate is closed at dusk.
The pool is shared by all guests on the property so you should not have any expectation of privacy while you are in the pool/hot tub area.
The pool is heated seasonally via solar tubing, so it is generally pleasant between May and October, depending on weather conditions.
The hot tub is heated during the last two hours before sunset.
No pets or glass in the pool area. We provide shatter-proof cups for you to use when enjoying beverages at the pool.
Absolutely do not stand or sit on the infinity edge of the pool.
No diving in the pool. This is for your own safety!
There is no lifeguard so you use the pool at your own risk.
Please read and follow the pool rules posted at the pool.
THINGS TO BE AWARE OF:
You are visiting nature! You may encounter poison oak, spiders, mosquitoes, ticks, wasps, and other plants and insects typically found in the woods so be prepared with long sleeves/pants and insect repellant.
It is possible, although unlikely, you could encounter a bear, a mountain lion, a rattlesnake, or other woodland creatures. Keep in mind that this is their home too and they have as much right to be here as we do – probably more!
WIFI/CELL SERVICE:
Cell service can be spotty, depending on your carrier (Verizon and AT&T are okay).
Our internet service is cellular-based which means it can be slow and/or intermittent at times. Do not count on being able to stream more than one device at a time or to be able to videoconference.
The internet is accessible from all units on the property, as well as at the pool area.
WEATHER, SMOKE, WILDFIRES, AND POWER OUTAGES:
PG&E, our electrical power supplier, periodically shuts off service during severe wildfire risk conditions.
Our battery storage system does not fully power the property, so you may experience reduced electrical power during your stay if PG&E turns off the power.
During wildfire season you may experience smoke from wildfires burning throughout California.
We do not give refunds due to smoky conditions or weather-related issues, such as heat waves, excessive rain and stormy weather, or power outages.
Although we will make every effort to keep you informed about the weather conditions and forecast, you should also take responsibility for checking the weather forecast and smoke maps.
PHOTOGRAPHY/DRONES:
You must have written permission from Reverie Retreat to use anything Reverie Retreat-related for commercial purposes (this includes photos/video on advertisement-driven Instagram or YouTube accounts).
No drones allowed anywhere on the property.
Be mindful of other guests when taking photos.
DAMAGES:
Major damages or missing items will be charged at the full value of repair or replacement.